Happy New Year! This is a really innovative concept with a charming, adorable style. I'll definitely be hearing Lauret in my sleep tonight lol.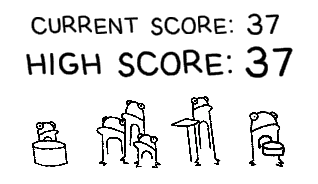 Dragging Feedback: The dragging is a bit wonky since the mouse's screen position is piped directly to the frog's position on the Y plane. Here's a tutorial I found that applies: wow so cool! Also, it's possible to drag the frogs off-screen or have them jump off-screen by themselves.
Rhythm Feedback: It was extremely satisfying to weave 2 frog patterns together. However, sometimes my chain would break despite no collision occurring (example below). Maybe add a tiny grace period to make sure this doesn't happen?
Take all my criticism with a grain of salt; I realize you made this in under 72 hours, which is \ay more than I've ever done. I still love this project immensely! Shoutout to your mum btw.